Universal dental clinic Implants promises permanent, life like replacement of missing teeth using Dental Implants with highest success rate among all type of dental treatment.
Are you missing teeth and are uncomfortable being around anyone but your closest friends or family? Do you find yourself avoiding activities that may require you to be around strangers? Are some of your teeth worn down because you are using them to compensate for missing teeth in your smile? Does your face look haggard or older because you are missing teeth and your cheeks are sunken in
Having a beautiful smile is essential in today's world and it is difficult to feel confident if your smile isn't what you want it to be. That's why Gorakhpur dentistDr. Ravi Kumar Srivastava  at Universal Dental is happy to offer dental implants to his Gorakhpur residents.
What Is the Reason behind the Popularity of Dental Implants?
Dental implants perform as a permanent replacement for the tooth root on which artificial teeth or a set of teeth can be attached. People undergoing the procedure can have a single tooth or the entire set of teeth in their mouths replaced by an implant restoration. After the restoration has healed and the attachments placed people can continue with their lives as they had never lost their natural teeth. Most importantly, they have the look and feel of your natural teeth and do not come with any risks.
People can maintain their oral hygiene habits as they did earlier without any restrictions placed on them. They are also able to speak, eat, and carry on with life as though they never underwent the procedure for the implants. They will be able to display a full set of permanent false teeth that will remain with them for a long time. All this at a cost-effective price because of the longevity of a solution that does not require replacements regularly.
What are the advantages of Dental Implants?
Dental implants are the best way to replace missing teeth.

Dental implants can look extremely natural, mimicking the look of the surrounding, natural teeth in your mouth. We color-match them. So, they look completely natural in your smile.

Dental implants feel like natural teeth and can give your mouth that full, complete feeling.
Unlike a dental bridge, which reduces the enamel of the adjacent teeth and uses them to connect the three teeth together, an implant is a stand-alone tooth that is easier to clean, permanent, and preserves the bony ridge of a patient's mouth.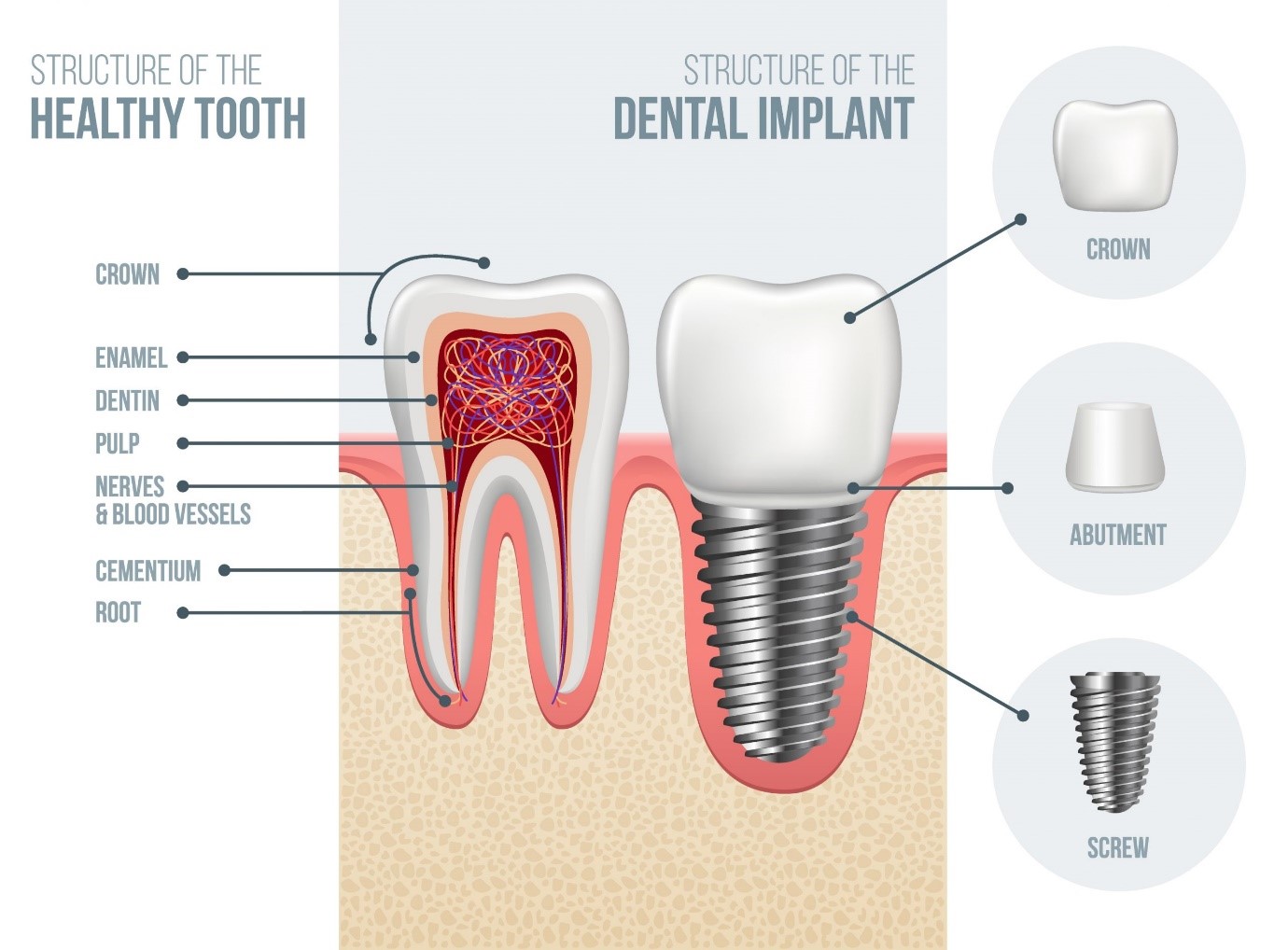 What Is the Procedure for Getting Dental Implants?
Dental implants are highly recommended to address missing teeth. The process of obtaining dental implants is simple. First, Gorakhpur dentist Dr. Ravi Kumar Srivastava at Universal Dental will give you an examination during a consultation to determine your overall oral health. A CBCT scan is completed in order to diagnose the level of bone in your mouth three-dimensionally, as a strong and adequate bone structure is required to hold dental implants in place successfully. The CBCT scan offers assurance that the dental implants will not hit any vital anatomy such as nerves or sinuses. Few other dentists in the area have the state-of-the-art technological equipment that is used by Gorakhpur dentist Dr. Ravi Kumar Srivastava  at Universal Dental.
Once Gorakhpur dentist Dr. Ravi Kumar Srivastava  has determined you are a good candidate for dental implants, we will place the titanium implant (a small metal post) into the jawbone. In 3-6 months, osseointegration, or fusing with the jawbone occurs. During this process, the bone will grow around the titanium implant in order to strengthen it and hold it in place. It is a little like growing a "new" tooth root as the dental implants are tooth root replacements. Temporary dental crowns are placed on the implants until osseointegration has completed. When the healing time is completed, your Gorakhpur dentist will then fit and place a permanent dental crown on your dental implant.
Why Other Solutions are considered unsuitable?
Other solutions are associated with the risks of bone loss and infections or restrictions placed on the way the patient should be maintaining them. In some cases, like with dentures, people are uncomfortable with the fear that the placements could slip out when talking or eating. They also need regular adjustments and refitting from the dentist resulting in additional costs.

This does not indicate that dentures are unsuitable but is just a statement to let patients know they will not be concerned about any of these issues if they choose to have dental implants in their mouths. In any case, dentures need to be replaced every 5 to 6 years which means patients will be spending additional funds for the replacements which can be substantial. When compared to the cost of dental implants they could prove to be more expensive besides burdening people with the risks involved in having them.
How Can Patient Decide Whether Dental Implants Are Suitable for Them or Not?
The best way for patients to determine whether they are suitable or unsuitable for dental implants is to discuss the matter with their dentist who will be the professional that can provide the right answer. Patients that are unsure about their needs will benefit from the discussion and be able to arrive at an informed decision. However, as mentioned earlier there must be prepared to make a long-term commitment because the procedure is lengthy and will need the patient to make several visits to the dentist's office until the implant has healed properly and is ready for the replacement teeth to be placed.
If the patient has an inadequate bone in the mouth he or she will be required also to undergo a bone implant which can delay the time needed for the recovery. It is recommended that patients spare time for the consultation with their dentist before deciding on having dental implants by not making a decision until it has been recommended to them. They must also ensure they undergo the surgery for the dental implant from an experienced dentist to get the best results.
What are different types of Dental Implant treatments are available?
Single Tooth Implant
Multiple Dental Implants
Full Mouth Dental Implants
All on 4 Dental Implants
All on 6 Dental Implants
Who Can Have Dental Implants?
Procedure of placing multiple dental implants Universal Dental in Gorakhpur should be suitable for most people and age and gender is not normally a factor.
If you have any questions or would like to schedule an appointment with Dr. Ravi Kumar Srivastava  at Universal Dental call +91-63070 33881 or request an appointment by filling out the form on this page.
Book Your Appointment